Now, or at some point in life, we all people suffer from hair loss no matter we are a man or a woman. Sometimes, we think that we are undergoing hair fall and that's extremely right and obvious.
With the mounting stress in our daily life or being surrounded by various diseases such as diabetes, dengue, or any other serious illness, this hair fall becomes common.
As on average, people tend to lose around 50-100 strands every 24 hours. This hair fall usually happens when we are sleeping, getting oil massage on hair while taking a bath, or combing our hair.
On the contrary, though some amount of hair fall is totally okay but there happens to be a situation in life where a few people tend to suffer from considerable hair loss.
Not only considerable loss of hair but also thinning of hair is something that a lot of people go through.
This sort of situation can compel a person into a stressful and depressing situation. However, there are certain options that can overcome this problem of hair loss.
Do Laser Hair Growth Combs Work?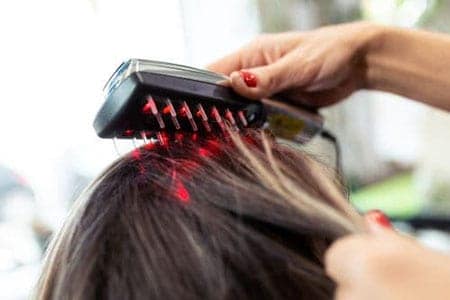 Are you suffering from hair loss? There is no need to worry at all, since this hair loss or thinning of your hair can be stopped using laser hair growth combs.
Now the question is whether these laser hair growth combs actually work or not? Before we answer this question, we should understand why hair loss happens. Hair loss takes place due to many factors such as:
Genetics which is considered as the major cause of hair loss. 
Using chemicals or other various types of styling products also lead to hair fall or thinning of hair. 
Pulling your hair unnecessarily also causes hair fall. 
Thyroid is another major cause of hair loss in women. 
Lack of proper diet also covers the major portion for why hair loss takes place. 
Stress.
Hormonal imbalance.
Now, let us talk about whether these laser hair growth combs work? So, the thing is each physician can have a different point of view on the effectiveness of these laser hair combs.
Some just clearly reject this idea whereas some strongly oppose the rejections and call these hair growth laser combs more effective.
It should be noted that the hair growth process takes time and persistence but with a proper hair growth laser comb, results can be really effective and surprising.
Laser hair growth combs are effective
These laser hair growth devices can be really effective when used in a proper way. As per the food and drug administration (FDA), it has been proved that these laser hair growth combs are equally effective and safe.
Moreover, as per FDA, it is lucid for both hair growth and treatment of hair loss. These hair growth laser combs help in the prevention of hair loss by targeting the active growth cells of hair via stimulation.
A laser comb for hair growth is nothing but a medical device that is used to treat your unwanted hair loss. These laser combs speed up the growth of hair in the scalp of people who have active hair follicles.
On the other hand, this is also considered a cost-effective technique to accelerate the growth of your hair by way of using these laser combs.
Stimulates hair follicles and promote hair growth
There are a number of hair growth laser combs that serve their purposes differently. The main purpose is to regenerate hair growth and prevent hair loss.
It uses the technique of laser light which helps in stimulating the hair follicles which further leads to the growth of hair. Furthermore, it also assists you in promoting the health of your scalp. Some laser combs are portable and travel-friendly too. 
Moreover, some of the combs are easily affordable and work amazingly by stimulating hair follicles and promote hair regeneration.
The vibrating action of these hair growth laser combs gives relaxation and hence speeds up the growth of hair. You can also get your hair thick and healthy bringing them to its normal state by using these laser combs. 
Keep your expectations low and have patience
Apart from this, though hair growth laser combs are mostly effective they can also be ineffective in some cases. You should often keep your expectations low while undergoing this laser comb treatment.
Early treatment is better and suggested for best results. Apart from this, it is pretty easy to use laser combs but along with a scope of patience and commitment to get expected results.
As there is a saying, excess of anything may be bad dangerous. In the same way, it is always recommended to use this comb as much as it is required only, excessive usage can be dangerous and harm your follicles. 
Conclusion
On the whole, it can be easily observed whether these hair growth laser combs are to be used or not? Like a product which has its pros and cons, similarly as per the studies, laser combs are effective for some and on the contrary, the same are ineffective for others.
Moreover, you can give peace to your mind and lower your stress using these hair growth laser combs which further leads to a reduction in hair fall.