Are you looking for honest Valotin hair growth product reviews? In this guide, I'm going to share an unbiased Valotin Review. Check if it works or just another hair growth scam…?
Let's find out…
Valotin Hair Growth Products
Valotin is a USA brand that provides a wide range of hair care products. The company claims- Valotin provides complete hair care and holistic hair nourishment.
The brand produces four different hair care products that contains-
Strengthening Shampoo
Strengthening Conditioner
Hair Growth Support Supplement
Strengthening Serum
These are hair care products produced by Valotin. Let's know about each products individually…
1. Valotin Strengthening Shampoo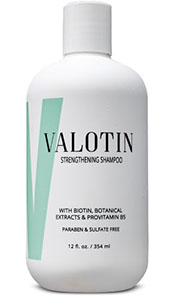 The first step to hair care is to shampoo your hair properly. It cleans all dirt from your scalp and head.
This hair strengthening shampoo is formulated by experts that contain all-natural ingredients. It's a blend of vitamins and botanical extracts that cleanse your hair scalp deeply.
Biton and other essentials used to give thicker and shiny hair. It's free from parabens, sulfates, and other harmful chemicals.
Ingredients
These are organic ingredients used in Valotin shampoo. For further details, visit this page.
Aloe Barbadensis Leaf Juice
Biotin
Green Tea
Cucumber
Cetrimonium Chloride
Chamomilla Recutita
Glycerin
Rosemary
Disodium Laureth Sulfosuccinate
Sodium C14-16 Olefin Sulfonate
Panthenol
Cocamidopropyl Betaine
Pot Marigold Flower
Polyquaternium-10
Sodium PCA
These ingredients are used in natural form. I'm using Valotin strengthening shampoo and it seems good. If you're looking for a natural biotin-rich shampoo then it's a good choice.
2. Strengthening Conditioner

You should use a conditioner to strengthen your hair. The Valotin strengthening conditioner comprises eleven amino acids and building block proteins.
This conditioner strengthens and repairs your hair with ginseng root extract, biotin, hydrolyzed silk, and aloe vera.
Ingredients
Hydrolyzed Wheat Protein
Cetyl & Stearyl Alcohol
Biotin
Alanine
Retinyl (Vitamin A) Palmitate
Aloe Barbadensis Leaf Juice
Hydrolyzed Silk
Dicetyldimonium Chloride
Tocopheryl (Vitamin E) Acetate
Ascorbyl (Vitamin C) Palmitate
For detailed information- visit the official website.
3. Valotin Hair Growth Supplement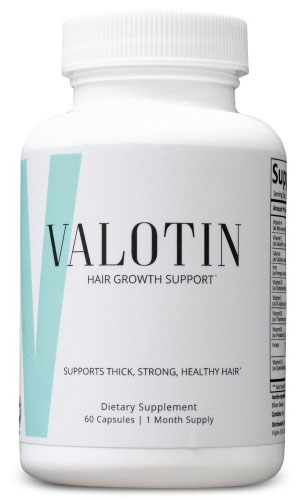 The hair growth supplement by Valotin nourishes your hair from the inside. This supplement is an effective blend of vitamins, minerals, and organic extracts.
The Folate Acid helps to produce DNA and RNA required for new hair cells. The biotin provides thick and shiny hair.
It's an effective alternative to Folexin. I personally recommend Folexin along with Valotin Shampoo and Conditioner. I'm using Folexin for the last couple of months and I can see new hair cells on bald areas.
Ingredients
Vitamin A
Vitamin D3
Calcium
Iron
Vitamin B6
Vitamin B12
Folate Acid
Vitamin B5
Zinc
Vitamin C
Vitamin E
Biotin
Magnesium
Vitamin B1
It's an FDA-approved formula that supports hair growth. You can check more information on the official website.
4. Valotin Strengthening Serum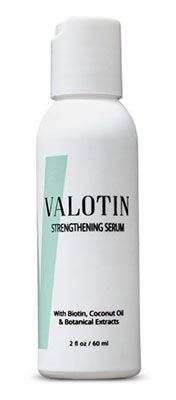 The strengthening serum is an effective composition of Lemongrass extract, Vitamin C, Vitamin E, Coconut Oil, and ProVitamin B5. It's an effective formula for hair growth.
If you're looking for an organic hair serum then this one is best. It gives smoothness and shines to dry hair.
Valotin Review- My Personal Experience
If you're looking for unbiased reviews of Valotin hair growth products then here's my personal experience.
I'm using Valotin for the last 2 months and I am quite happy with the result. It feels great after using Valotin Shampoo, Conditioner, and Serum.
Apart from that- I'm taking Folexin twice daily. Valotin Hair Support Supplement is also a good choice, but Folexin is effective for me. In fact, thousands of peoples are satisfied with Folexin.
If you're thinking to buy Valotin complete package, you can go ahead. It uses all-natural ingredients hence it doesn't cause any side effects.
Pricing
When we talk about the pricing of Valotin then, it seems quite attractive in comparison to other hair growth products.
Here's the pricing of Valotin products-
Valotin Shampoo- $30.95 (354ml)
Valotin Conditioner- $30.95 (354ml)
Valotin Supplement- $24.95 (60 capcules/1 month supply)
Hair Serum- $22.95 (60ml)
However, you can get an additional up to 20% discount on bulk orders.
Side Effects
Valotin produces hair growth products from natural herbs and botanical extracts. So, there are no major side effects of these medications. Another great advantage of Valotin is- it can be used with laser hair therapy and other topical hair solutions.
Final Verdict
Valotin is a trustworthy brand in the United States. Its formulas are FDA-approved and it uses organic ingredients. The smells of Valotin products are nice and it works.
Biotin, Vitamin E, Vitamin C, and Folate Acid are active nutrients for hair growth. Valotin has all these ingredients and it helps in hair growth.