Not all of us are born with thick and shiny hair. It is such a bummer when you look on point but your hair is always so dull and lifeless.
We can safely say that we all are very fond of our hair and a good hairstyle can surely elevate your entire appearance.
Especially when it comes to people with thin hair, it is so difficult to style them according to your liking.
However, with pomades, your thin hair can look fuller, thick, and more textured. Since there are so many products available in the market today that it is impossible to know which one is genuine.
To dispel your confusion, we are here with a list of the best pomades for thin hair. Whether you have fine hair or thin hair, get ready to create bold and impressive hairstyles with the help of these products.
Best Pomades For Thin Hair
These are some top-rated pomades which are suitable for thin hair–
1. Baxter of California Clay Pomade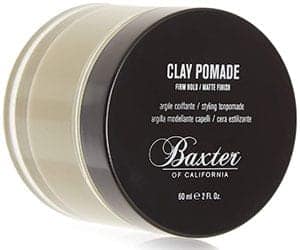 Our first pick has to be this product by Baxter of California for all the good reasons. Baxter of California is an award-winning styling product.
This clay pomade defines your hair and styles it in such a way that your hair remains the same all day long.
Since it is infused with natural ingredients like kaolin clay and beeswax, the product adds a great texture to your hair.
Not only can this clay pomade style your hair but it can style your mustache and beard as well. With a base level of wax, its hold level is very high and it also provides a natural finish.
Pros
Can be paired with soft water, hard water, hard cream as well as clay effect style spray.
The formula is paraben-free and does not contain any harmful chemicals.
Texturizes and moulds hair into place so you can be stress-free for the rest of the day.
Cons
Takes time while applying the clay pomade.
2. Imperial Barber Grade Pomade Paste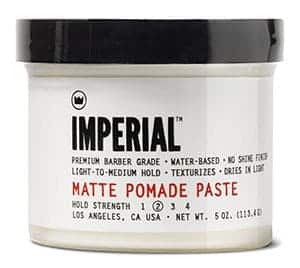 Prevailing for more than two decades, Imperial Barber has certainly got a global brand reputation. If you are looking for a natural finish for your hair then this pomade paste is the best for you.
Whether you wish to have a messy hair look or a groomed gentleman look, you can do it all with this product. With ingredients like green tea leaf extract, bamboo extract, castor oil, sunflower seed extract, and horsetail, this pomade paste is definitely the one for you.
Just a small amount of the paste will be enough to style your hair properly. For men who are not fond of a firm grip and want a light to medium hold of their hair, you can count on this product for your needs. Style your hair effortlessly without them getting hard or crunchy and enjoy the compliments.
Pros
Can be used for the beard as well along with your hair.
Imparts no shine to your hair so you get a natural finish.
Light in weight so your hair does not weigh down.
The product will strengthen your hair and add a certain volume to it.
Cons
It has a quite strong smell.
3. American Crew Pomade For Thin Hair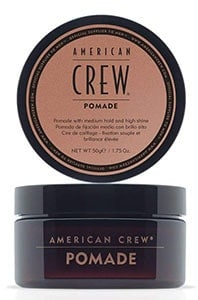 Forget the professional stylists as you can do the same thing every day at your home itself. If you wish to get a sleek and classy hairstyle then opting for American crew pomade is going to be your best decision.
The product gives a medium hold so you only have to apply it once and let it do the magic. No matter what hair length you have, the product can be used for everyone. Especially for people with curly hair, this pomade will suit your hair really well.
Just take a small amount on your hands, rub it on your palms and then work it on your hair. Moreover, this is probably the best alternative to hair gels. From optimum quality ingredients to easy styling, you get everything in a single product.
Pros
The application is super easy and your hair will remain non-greasy.
Along with medium hold, it imparts an incredible shine to the hair.
Suitable for both men and women.
This size is perfect if you wish to carry it while travelling.
Gives a healthy-looking appearance to your hair and increase manageability.
Cons
Pricey for the size it comes in.
4. Layrite Natural Matte Cream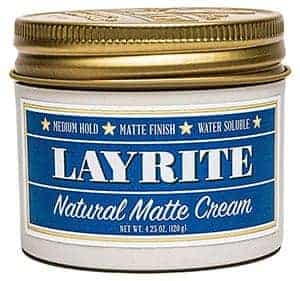 Are you looking for a lightweight matte cream that will make styling super easy for you? Layrite, the brand that has existed for two decades is the perfect solution for your thin hair problems.
This water-soluble shaping cream is just what you need for achieving your hair goals. Whether you wish to add texture or make your hair look thick, this matte cream is simply the best. Even if you have wavy or curly hair, the product is known for giving a frizz-free end look.
Just by doing a simple routine, you can attain structured hair that will last for the rest of the day. Moreover, it contains Kaolin clay and waxes that are naturally derived from Brazilian palm tree leaves and coal. Get instant results that stay for long and strengthen your hair.
Pros
A small dose covers all of your hair so the product is long-lasting.
Smells like vanilla so your hair will have a great smell throughout the day.
Light in weight and you won't even feel that you have applied something to your hair.
Contains no harmful ingredients that may damage your hair.
Cons
Some people may find the smell overpowering.
5. Uppercut Deluxe Hair Pomade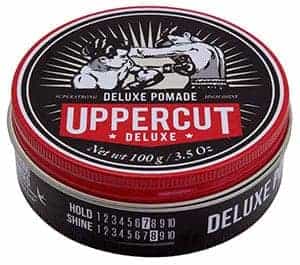 Uppercut offers a wide range of high-quality products and this deluxe hair pomade is one of them. This brand claims to simplify complex styling.
Say hello to soft and shiny hair with this hair pomade and be ready to receive lots of compliments wherever you go.
Plus, the hair pomade holds your hair perfectly without making them stiff or hard. Unlike other products, it does not make clumps in your hair.
Alongside, you must have faced that the products dry out too soon and your hair ends up looking like a mess.
Do not worry because this hair pomade will look just the same the entire day. No matter what style you are opting for, this product will add a tone as well as definition to your hair.
Pros
Since the product is water-based, it can be washed easily and there will not be any residue left.
Suitable for every type of hair length.
It imparts an amazing shine to your hair without making it look artificial.
Gives a matte finish and has a great scent of coffee and vanilla.
The application is super smooth and won't even take 5 minutes of your daily routine.
Cons
Bit expensive in comparison to others.
Final Words
These were our top 5 picks for hair pomades for thin hair. Get a salon-like finish at your home in just a few minutes without putting in any effort. From messy hairstyle to well-groomed hairstyle, you can now do anything even if your hair is thin.
Do not forget to check out the ingredients present in the product and see if you are allergic to something. Also, try not to invest in cheap products as running your hair may not be on your checklist.