Nanogen is yet another well-known brand that produces a wide range of hair loss products. In this article, we're going to review Nanogen Hair Serum. If you're thinking to try it, this Nanogen review will help in making a purchase decision.
What is Nanogen Unisex Hair Serum?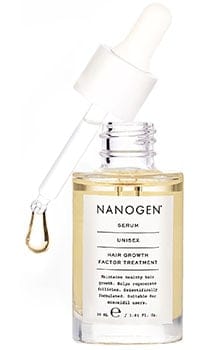 Nanogen is one of the most popular brands for hair growth products. It was founded back in 2001 in the United Kingdom. The sole aim was to provide excellent products that treat hair loss and give a thicker and dansed head.
As of now, Nanogen providing around 10 hair care products. It included hair fiber spray, serum, conditioner, and shampoo. But, in this article, we shall concentrate on Nanogen Hair Serum.
Does Nanogen Hair Serum Work?
Yes! It works…
I have gone through thousands of feedback pages, and real customers found that- Nanogen hair products are effective in stopping hair fall. However, at the same time- they realized that hair fall starts again after stopping the use.
Ingredients Used in Nanogen Serum
Nanogen unisex hair serum contains an effective blend of ingredients that improves thickness of hair. The formula is patent by Nanogen and these are the ingredients used-
Citrus Aurantium Amara Flower Water
Polysorbate 20
Glycerin
Sodium Metabisulfite
Zinc Chloride
Benzoic Acid
Superoxide Dismutase
Pisum Sativum Extract
entylene Glycol
Methylpropanediol
Hydrolyzed Lupine Protein
Phenylpropanol
Trifolium Pratense Flower Extract
Sodium Benzoate
Phenoxyethanol
Butylene Glycol
Larix Europaea Wood Extract
Caprylyl Glycol
You can visit the official website for further details.
How To Apply Nanogen Hair Serum?
The company recommend to apply it Once daily on dry hair. I checked their official website to know the direction of use, there was no information about the quantity.
Later, I contacted Nanogen support team and they told that- take 1ml of serum from pipette and apply the droplets to your scalp.
You can massage gently to get it absorbed by your hair scalp and follicle. Do not rinse immediately. Leave it for few hours to dry it.
Do not exceed the daily recommended dose.
Does it work?
If you're expecting overnight result then don't use it. Many customers said that, it takes 3-4 months to regrow new hair cells. However, they recommend to take Folexin supplement alongside for faster result.
The combination of Nanogen unisex hair serum and Folexin ( Fo-Ti and Biotin based supplement) works great.
Bottom Line

– Should You Buy?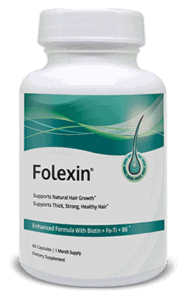 Nanogen hair serum contains chemical ingredients that could cause some irritation and side effects. Many customers reported that- Nanogen Unisex Hair Factor Serum is not effective to treat all types of Alopecia.
Folexin is a natural and effective alternative because it doesn't cause any side effects. Also, the cost of this product is also not so high.
So, I recommend using Folexin along with Nanogen serum to stop hair loss.