Either you are 30 or 60 years old, men or women you can experience hair fall at any age, and it is a fact that nobody wants to be bald.
But don't be panic- proper hair care can save you from being bald…
If we talk about a hair care product, the first product strike in our mind is a hair shampoo followed by conditioner and hair growth supplement.
But getting an effective hair growth shampoo is not an easy task. The market is full of scam and fake hair shampoo.
To help you in getting the best hair shampoo, I am here with this Pura D'Or shampoo review.
Pura D'Or is one of the most popular hair shampoo available on various online portals with a huge number of positive reviews.
But are you sure all these reviews are honest and real?
It is always better to get all details about a product you are going to use, especially if it is related to your health and looks.
To know whether Pura D'Or will suit your hair or not? Is it a smart buy choice?
Stay with me till the last of this Pura D'Or Review, and you will get an answer to all your queries.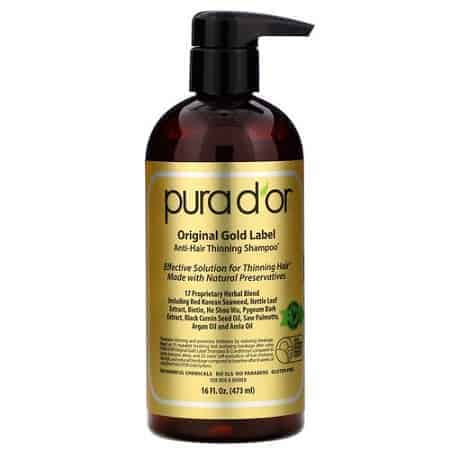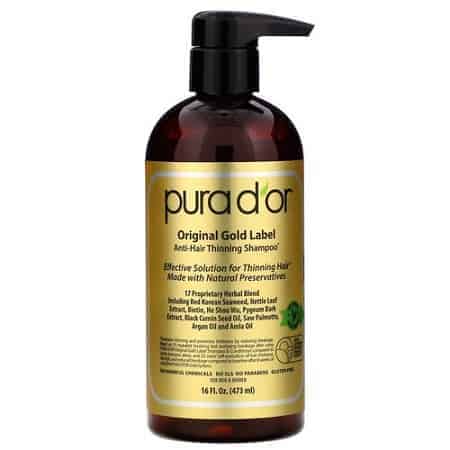 Pura D'Or Shampoo Review
Pura D'Or Anti thinning shampoo is a clinically tested shampoo effective in reducing hair thinning and increasing hair volume, shine, and strength.
Pura D'Or Anti-Thinning Shampoo can be used by both men and women of all age groups.
It contains 24 effective hair growth ingredients in it. Out of which 17 active ingredients are clinically proven, DHT Blocker.
Most of us know that DHT is the main reason behind the pattern baldness in men.
Dihydrotestosterone (DHT) is an androgen responsible for the development of male sex characteristics for those who are new or not aware.
But it is clinically proven excess production of DHT can also make you lose your hair faster and earlier.
The shampoo not only Block DHT but also nourish the hair follicles to support hair regrowth.
You can buy Pura D'Or Anti thinning Shampoo from various famous online stores such as Amazon, Wallmart, etc.
What Ingredients used in Pura D'Or Anti Thinning Shampoo?
As mention above, it contains a blend of 24 active ingredients, including premium oils and other botanical compounds.
Here in this Pura D'Or shampoo review, I will discuss some of the key ingredients used in it.
Biotin: It is a water-soluble vitamin, also known as Vitamin B12. It supports the growth of thick and healthier hair.
As per reports, the deficiency of Biotin can lead to hair fall.
Saw Palmetto: One of the best known natural DHT Blocker. Saw Palmetto is the key ingredient of a DHT Blocker Shampoo.
It is a natural compound extracted from the tree, and it does not cause any side effects.
Aloe Vera: It is a rich source of vitamin E. Aloe Vera is very useful for skin. It is used to reduce inflammation and providing moisture to the scalp.
Apart from these three key ingredients, other ingredients present in it are-
Red Korean Seaweed
Zinc Pyrithione
Nettle
Pumpkin Seed
Argan Oil and
Natural Preservatives
Is Pure'D Or Shampoo Cause Any Side Effect?
All the ingredients used in it are natural; thus, it does not cause any severe side effects.
I have used it for more than six months, and I do not experience any side effects.
Only a few users claim that they experience mild scalp irritation or unusual hair texture after using Pure'D Or Hair Shampoo.
Pros and Cons
Pros
Effective in blocking DHT.
It contains natural ingredients.
It promotes hair growth in men and women.
It is suitable for both, male and female.
It has no major side-effects.
Cons
The product does not lather great.
It may be a little too heavy.
My Experience With Pura D'Or Anti Thinning Shampoo
My experience with this Pura D'Or shampoo was neither too good nor too bad.
What I don't like much about this shampoo is it acts very slowly. You will cant notice any improvement in the first two-three months of its use.
After using it for three months, I don't notice any positive outcome other than cleaning the scalp.
So, I decide to take Folexin Hair Growth Supplement twice a day, along with using this shampoo.
In the next month, I found my hair is getting thicker.
But as Pura D'Or shampoo is expensive, I don't find it feasible for further use as I alone this shampoo is not doing great for me.
So for a fast and better result, you can combine it with a Folexin hair growth supplement.
Final Verdict: Is It Worth Your Money
In this Pura D'Or shampoo review, I have covered all the important information related to Pura D'Or shampoo.
Based on this information you can easily decide about the effectiveness of this product.
If you as for my opinion on this product, I will say even though in my case result was not up to my expectation.
But after going through all the ingredients used, expert opinion, hundreds of user reviews.
I can say you can give it a try...
One thing I would like to mention here If you are looking for a fast and effective result, you need to combine it with clinically approved Folexin Hair Growth Supplement.
Otherwise, most of the user claims that if you use Pure D'or Shampoo alone, you will have to wait for more than six months or in some case a year to witness the result.