Minoxidil is quite a popular formula to treat hair loss (Alopecia in medical terms). It comes in various forms such as topical solution, foam, shampoo, and tablets. Doctors recommend it after checking the types of alopecia and its stages.
What is Minoxidil?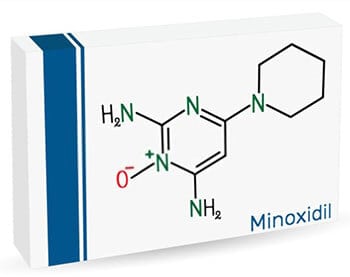 Minoxidil is a generic drug that was introduced to treat hypertension. Later, it was observed that minoxidil is effective in treating baldness. Doctors prescribe it to stop hair loss and pattern baldness in men. Though, it's effective in women too. The 2% minoxidil topical solutions are effective in female pattern baldness.
Minoxidil comes in various forms. It's available in oral tablets, topic solution, foam, and shampoo. It belongs to the class of drugs called vasodilators. There is no concrete proof that how minoxidil stops hair fall. But, clinical trials found it effective in hair loss treatment [1]. It activates the follicular cells by enhancing hair growth.
What are popular brands for Minoxidil?
Minoxidil topicals are commonly used for treating hair loss. It comes in various concentrations. But 2% minoxidil and 5% minoxidil solutions are most popular. These are some popular brands for Minoxidil topical solutions…
Popular 5% Minoxidil Brands (Used for Men)
Kirkland 5% Minoxidil Topical Solution
Basic Care 5% Minoxidil Solution
Foligain Minoxidil 5% Topical Solution
Popular 2% Minoxidil Brands (Used for Women)
Women's Rogaine Minoxidil Topical
BosleyMD Women's 2% Minoxidil
Equate 2% Minoxidil Treatment
Note- Women's Rogaine topical treatment comes with 5% Minoxidil concentration. However, it's found as the most effective topic solution to treat female pattern baldness. But, customer's reported that- once they stopped using minoxidil, hair fall started again.
Minoxidil Side Effects
The oral minoxidil tablets don't cause any drowsiness. But there are some side effects noticed in patients-
It increases heart rate.
Vomiting.
Nausea.
Dizziness.
Trouble breathing.
Rapid weight gain.
Redness, stinging, and burning are common side effects of Minoxidil topical solution. If you facing any serious trouble then immediately seek medical help.
How To Use Minoxidil Topical?
You can use minoxidil topical for hair loss treatment. Here's how to use minoxidil for better and faster result-
Wash your hair with shampoo.
Dry your hair and scalp.
Apply 1ml (recommended dose) on your hair and scalp.
You can massage gently to get it absorbed by the scalp.
Keep your hair dry for at least one hour.
Conclusion
Minoxidil is the most prescribed medicine for treat hair disorders. The study report found that- it's very effective in hair loss treatment. The 5% minoxidil topical solution is used to treat male pattern baldness while 2% minoxidil solution treats female pattern baldness.
The study report found that- after terminating the use of Minoxidil, the hair loss starts again. However, a combination of biotin supplement and topical solution of minoxidil gives better and long-lasting result.