Hair loss problems are very common these days. Out of every five-American, three of them are facing this problem. When we experience the hair fall the first thing, we do is change our regular shampoo with dedicated hair growth shampoo.
Keeping this in mind, I am here with the Revita Hair Growth Shampoo Review.
Revita hair growth shampoo is very much in demand, lots of people across various platforms talking about its effectiveness in controlling hair fall and hair regrowth.
To clear all the confusion and doubts about the Revita shampoo, I have here with Revita hair growth shampoo review.
In this review, I will discuss all details and pieces of information which you need to know before buying it.
Apart from the product details and quality, in this Revita hair Shampoo review, I will also share my experience with Revtia Shampoo.
If you are willing to buy Revtia shampoo you might be thinking about is Revita Hair Growth Shampoo Suits to all? will it suits me or not?
Why Should I buy Revtia Shampoo? why not other Hair Growth Shampoo
Are the claims made by Revtia in its advertisements the are real or Scam?
To get the correct and unbiased answer of all you quires related to Revita stay with me till the last of this Revita Hair Growth Shampoo Review.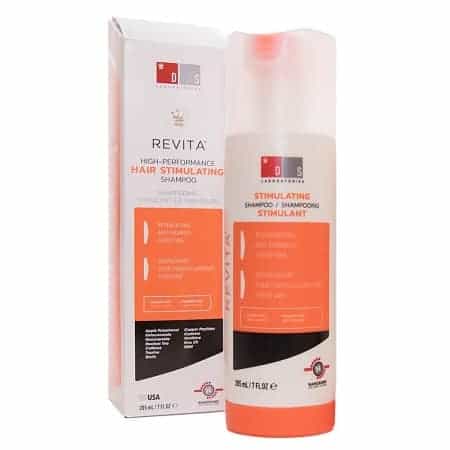 Revita Hair Growth Shampoo Review
Revita is a hair stimulating shampoo made by DS Laboratories- a well-known health and hair care products manufacturer.
As per the claims made by the manufacturer, Revita Shampoos are well-proven to enhance hair growth and control hair fall.
The Revita Hair Shampoo is equally effective for men and women facing hair fall, hair thinning, and androgenic alopecia.
Androgenic Alopecia– is a medical condition that is responsible for man pattern baldness and female pattern baldness.
The ingredients used in Revita Shampoo are effective in curing all three types of hair problems mentioned above.
The hair stimulating compounds such as Caffeine, Biotin, etc are effective in controlling DHT- excess of which is a major reason behind the hair falls especially in men.
Ingredients Used In Revita Shampoo
It is the ingredients of a product which decide the efficiency of the product. This is why in this section of the Revita Hair Growth Shampoo Review, I will discuss the key ingredients used in Revita shampoo.
After knowing the ingredients in detail, you can easily guess the effectiveness of this Revita Hair Simulating shampoo.
Ketoconazole
It is the main ingredient present in Revita. It contains anti-fungal properties which keep the scalp clean and free from dandruff.
It has a proven track record in stimulating hair regrowth. The Ketoconazole manages the over-production of testosterone- excess of which is a major cause of male balding pattern.
Caffeine
It is another key ingredient of Revita Hair Shampoo. Caffeine is one of the most used ingredients, which you will find in almost every hair growth shampoo.
It stimulates hair follicle growth and easily penetrates to the hair follicles through the scalp.
Biotin
It is a well-known water-soluble Vitamin. It improves scalp oil metabolism. Improve metabolism result in thicken hair.
Biotin is also a key player in the Krebs cycle. It increases fatty acid production to avoid late-stage regrowth treatment.
Apart from these key ingredients, there are lots of other useful ingredients that are used in it.
Here is the list of some of the trace ingredients used in Revita Hair Shampoo:
Procyanidin B2 (Apple Extract)
Niacinamide
Copper Peptides
L-arginine
Rooibos Tea
Taurine
Cysteine
Spin Traps
Ornithine
Emu oil
Methylsulfonylmethane (MSM)
These all together make Revita Hair Shampoo more powerful and effective.
Is Revita Shampoo Cause Any Side Effect?
As per the claims made by DS laboratories the manufacturer of Revita Hair Stimulating shampoo -the Revita Shampoo does not cause any side effect.
After going through lots of user feedback and my experience with Revita hair Stimulating Shampoo, I can say it doesn't cause serious side effects in my case.
But few people reported that they experience shedding during and after use. One more thing if you are allergic to any of the ingredients you may experience itching and similar symptoms.
Note: I am not a doctor or dermatologist, what I have mentioned about side effect in this "Revita Hair Growth Shampoo Review" is based on my experience.
If you have any doubts, please contact your Doctor for a piece of candid advice.
Pros And Cons of Revita Hair Stimulating Shampoo
Pros
Improves the texture of your hair.
Hair grows back on bald spots.
Suitable for all hair types.
Strengthens the hair follicles.
Equally suited for men and women.
Cons
It's expensive.
For better results, you have to use it continuously for more than 180 days..
The result is not long-lasting, once you stop the use hair fall get restarted.
Daily use could dry out your hair and cause even more
My Experience With Revita Hair Growth Stimulating Shampoo
In my early 30s, I experienced hair fall and like most of us, I tried everything which I found useful in treating my hair fall and hair thinning problem.
One day, one of my friends suggested me to try, Revita hair stimulating shampoo.
I did a little research about this product and decided to try it. I continuously use it for 100 days. But for the first 30 days, the result was not up to the expectations.
At the same time, I found Folexin Hair Supplements and start taking the Folexin capsule and continues using Revita Shampoo simultaneously.
After 10 days I was shocked to see the improvement. I noticed that the number of hairs on my pillow and comb drastically reduced, which was proof that my hair fall is getting reduced.
This keeps me motivated to use Revita Shampoo, after continuously using Folexin for 10 more days, I stop taking it and keep continues with Revita but here comes the nightmare.
My hair again restarts falling. Thus, I realize this product is only effective if you use it with Folexin Hair Supplement.
The one thing I would like to mention here If it does not work for me it does not mean it will also not work for you. It may work for you.
But one thing which I am sure to get the best result you can combine with a hair growth supplement.
Final Verdict: Is Revita Shampoo Worth A Buy?
In this, Revita Hair Growth Shampoo Review, I have covered all the required aspects of the Revita Shampoo. Which every buyer and user should need to know before buying it.
I hope that after going through this "Revita Shampoo review" you will be able to make a decision- will it suit you or you should try other Hair Growth Shampoo.
If you ask for my verdict on Revita Hair Growth Stimulating Shampoo, based on my experience I recommend you combine it's with Folexin-a hair growth Supplement, to get good and quick results.
Because the shampoo keeps your scalp clean which promotes hair growth while ingredients like Fo-Ti, Biotin, Vitamin C, etc. Present in Folexing Hair supplement provides required nutritional value to your body
These together give you a very fast and amazing result.