It is clinically approved that hair growth supplement is the most effective for treating hair fall compared to hair growth oil, shampoo, etc.
Because other than hair growth supplements, most of the hair care product work from the outside and only target scalp
But the problem is how to find the best hair growth supplement which suits you?
If you are also in the same situation and find it difficult to choose between Viviscal and Folexin.
Don't worry; I am here with Vivscal Vs Folexin– a complete comparison. To help you in selecting the best out of these two, which suits you.
To know in-depth about the other hair growth Supllelment available in the market, you can check my previous Hair Growth Supplement Reviews.
Viviscal and Folexin: A Brief Product Overview
Before going for Viviscal Vs Folexin the detailed comparison, I think it is better to start with a brief description of Viviscal and Folexin. To understand the product history and legacy.
So let have a look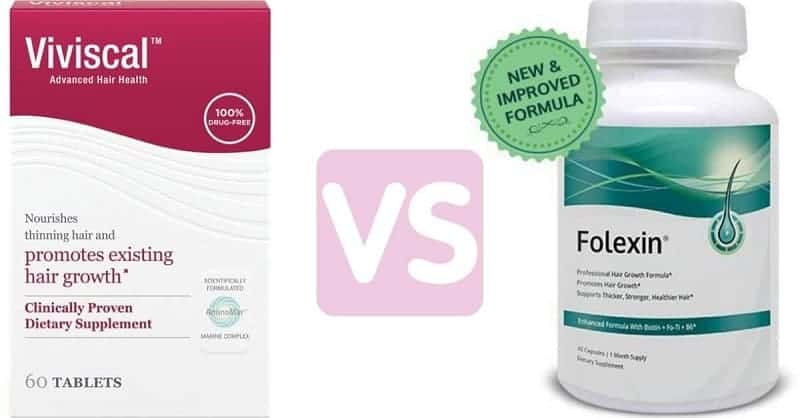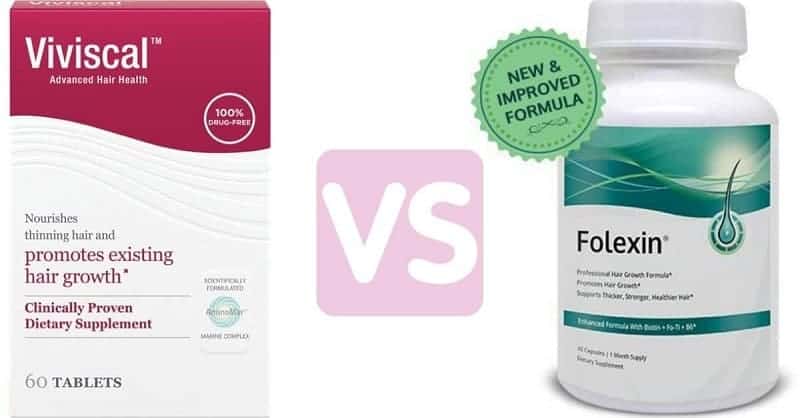 Viviscal Supplement
Viviscal Advanced Hair Health is a growing brand known for its wide range of hair care products, including hair growth supplements, hair shampoo, conditioner, etc. for both men and women.
To know in-depth about the Viviscal hair care product and especially the hair growth pill, you can check Viviscal Extra Strength Review.
In this review, I have mentioned all the details about this product and my personal experience of using it.
Folexin Hair Growth Supplement
Folexin is a well established and one of the most popular hair growth supplements for many years to date.
Earlier, Folexin was known by the name of Foligen. Due to its effectiveness in curing hair fall, Folexin is considered one of the most trusted and effective hair growth supplements.
To know my experience with Folexin, you can read my Folexin Review. In this review, I have mentioned all the details that make it one of the most used and popular brands.
Ingredients Used In Visual and Folexin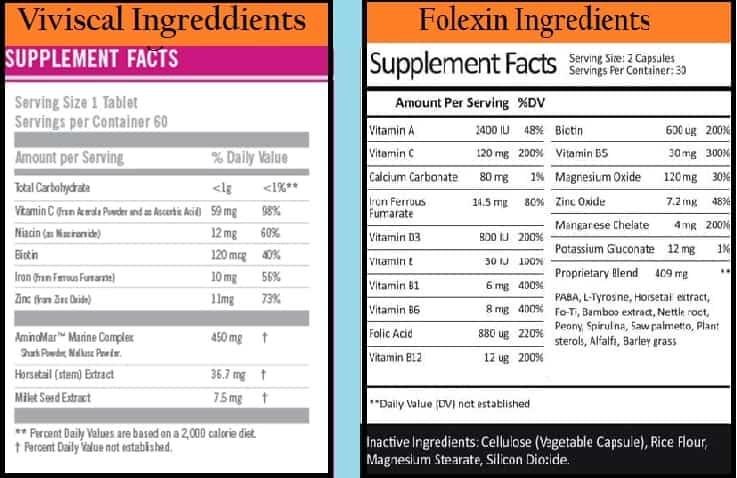 Folexin uses clinically approved natural ingredeients. All the ingredients used in Folexin are natural.
The key ingredients used in Folexin are Biotin. It is clinically approved that deficiency of Biotin in the body leads to hair fall.
Apart from the Biotin, the other key ingredients used in Folexin are Fo-Ti, Vitamin, Folic Acid, and other natural trace ingredients.
All these above mentioned active ingredients make the Folexin one of the world's best Hair growth Supplement.
The main active ingredient of Viviscal is AminoMar is Shark Cartilage. The other active ingredients used in Viviscal is AminoMar.
The AminoMar is used as an ingredient in Viviscal to enhance the collagen levels level.
If you are vegan, this product is not for you. It also contains some ingredients not recommended for use by a person below 18 years of age.
Doses And Ease Of Use
Folexin tablets come in a bottle. One bottle contains 60 pills of Folexin in it.
While in case of Viviscal its comes in a plastic strip containing 20 capsules in each strip.
The size of both capsules are of standard size and can be easily swallowed with water.
For both Folexin and Viviscal, it is recommended to take two pills once in a day.
Viviscal Vs Folexin: Which One-Act Quickly
It is a fact that none of the hair growth supplements act overnight. But if we talk about the Folexin, most users experience the slowdown in the hair within one week of the use.
Even though the recommended period for Folexin use is 2-3 months to witness a satisfactory result.
While in the case of Viviscal, the recommended period of use on its official site is 3-6 months.
So if you want a result in comparatively less time, it is better to go with Folexin.
Viviscal Vs Folexin Prices
Folexin Price
1 bottle for $24.95
2 bottles for $44.96
4 bottles for $89.90 (+ 1 Free bottle)
Viviscal Price
1 box for $49.99
3 boxes for $119.97
3 boxes for $119.97 (with the auto-shipment program)
Summarised Comparision Chart:
Viviscal Vs. Folexin
| | | |
| --- | --- | --- |
| Viviscal Vs. Folexin | Viviscal | Folexin |
| For men | No | Yes |
| For Women | Yes | Yes |
| Boosts hair growth | Yes | Yes |
| Average User Rating | 3.6 Star | 4.5 Star |
| Number of active ingredients | 9 | 29 |
| Clinically proven ingredients | Yes | Yes |
| Suited For Vegan and vegetarian | No | Yes |
| May cause Iron poisoning | Yes | No |
| Can Be Used By Children | No | No |
| How fast does it work | 3-6 months | 2-3 Months |
| Lowest price promise | No | Yes |
| Promo codes available | No | Yes |
| Best available price(with promo codes) | $35.99 | $13.48 |
| Normal per month dose price | $49.99 | $24.95 |
| Additional products sold | Yes | No |
| Auto-shipment charges | Yes | No |
| Delivery availability | Us only | 23 countries |
Overall Product Winner- Folexin
Final Recommendation Between Folexin And Viviscal:
Based on the details mentioned earlier, it is very convenient to decide on Viviscal Vs Folexin, which is the best.
For an immediate and significant result, I recommend you for the Folexin as all the ingredients used in it are natural and effective and can be used by Vegan and nonvegan.
While in case of Viviscal can not be used by Vegan as it contains Shark cartilage.
The max recommended period of use for Folexin is just months, but for the Viviscal, it is 6 months, twice of Folexin.
So if you are looking for a hair growth supplement that is effective, trusted, and can deliver the result in comparatively less time, I recommend you to get the Folexin and use it.