Viviscal and Nourkrin are the two popular brands that claim to deal with hair loss issues. However, there is always a tough competition between both as they receive tons of reviews and mixed reactions from the individuals who have tried these brands.
Therefore, it becomes challenging to judge which brand is superior to the other. So, the question here is, do these brands of hair loss treatment have similar content or have some differences?
The fact here is that both the Viviscal and Nourkrin are based on fish protein. 
But they are different from each other to some extent. So with all that in mind, I've reviewed and compared both the products in detail to help you decide which brand is worth trying.
Viviscal Vs Nourkrin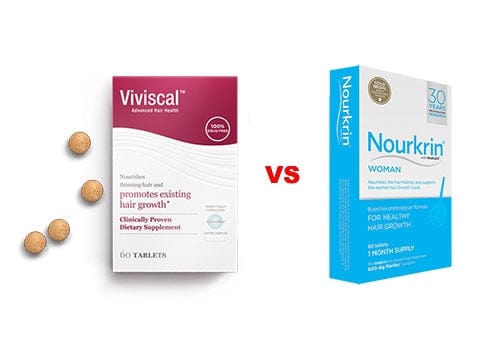 Viviscal and Nourkrin may look similar, but they are different from each other at some point. But if you take a close look at the basic ingredient of both, you may think both are identical twins. The active ingredients of both these tablets are based on fish protein.
Nourkrin contains Marilex, whereas, on the other side, Viviscal contains a fish protein known as AminoMar C.
Both these fish extracts serve several health benefits to you, including hair fall control. The common thing about both these brands is they both contain Acerola, a common cherry extract. 
Acerola is also referred to as superfruit, which can serve you various health benefits too. In contrast to this, both Viviscal and Nourkrin are enriched with Vitamin C, which is useful in repairing damaged follicles of the hair and body tissues.
On the other hand, these tablets also contain Niacin (Vitamin B3) and Riboflavin (B2) that are responsible for improving skin health, hair growth, and repairing damaged follicles. Another hit component present in both these tablets is Biotin, the essential Vitamin for hair loss.
Biotin is also used in the majority of shampoo brands. Deficiency of the Biotin in your diet can result in loss of hair. Due to these basic ingredients, you can say both are identical twins and work similarly.
Viviscal Vs Nourkrin- Is There Any Difference?
Despite the similarities, both the Nourkrin and Viviscal are way different from each other. The key difference here is in the composition of the mineral and vitamin content, including few ingredients.
The prime difference is Viviscal contains fish extract AminoMar C whereas Nourkrin contains the Marilex. 
In addition to this, the Nourkrin contains natural ingredients like fenugreek and Viviscal contains flax seeds. The fact is both ingredients are essential for hair growth. Other than this, Nourkrin also contains omega 3 fatty acid, which serves various other health benefits too.
More About Viviscal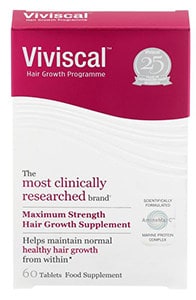 Viviscal is one of the best brands of hair loss supplements as it serves what is highlighted. However, Viviscal gained fame when an Irish company made a huge order for this supplement in 2017.
The key active ingredient of the Viviscal is AminoMar C, a common fish extract or a fish protein. This protein is helpful to promote the growth of the hair and repair damaged follicles too. Moreover, this will help fill all the nutrient deficiencies in the body that your diet cannot fulfill.
Like other big hair loss companies, Viviscal also expands its range of hair loss supplements and provides you with several other health products that benefit you. Also, the Viviscal contains Omega 3, which is helpful to combat against the DHT and promote hair growth.
More About Nourkrin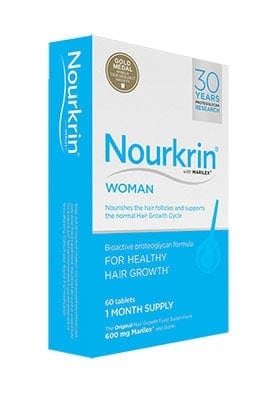 Nourkrin is owned by Pharma Medico who offers the supplement for hair growth. The main ingredient of Nourkrin is Marilex which is a fish protein. The protein helps promote the growth of hairs and control hair fall too. 
Marilex is a bioavailable protein that is easily digestible and serves various other health benefits too. Moreover, the protein helps prevent the conversion of testosterone into the DHT. This is why it is pretty helpful in stopping baldness in men.
More than that, the protein is also helpful to control hair loss in women too and fulfill the deficiency of the nutrients, and aim to fix all the damaged follicles.
Pricing
When it comes to price debate, both give tough competition to each other. Both the brands are expensive to buy. So, if you want to decide the best hair fall control product based on the price, then it's tough.
However, despite their expensive price tag, both the supplement serves as a boon to hair loss. Of course, you cannot expect the cheap alternative of any of these products. But you can still make a choice based on ingredients and whether they stimulate hair growth or not.
Is There Any Side Effect of Both Viviscal and Nourkrin?
Everything that serves you the benefits may also result in some side effects too. The same you can receive after consuming these hair loss control supplements. But the good news here is the side effects which you may experience after consuming these supplements are temporary and minimal.
They do not cause any severe damage to your health. You may experience skeletal issues which are due to Vitamin C present in these supplements. This is temporary and goes with time.
Conclusion
The Nourkrin is better than Viviscal as it contains cod liver oil which is an excellent source of omega 3 fatty acid than the flaxseed and fenugreek seeds. So overall, here, Nourkrin wins.
However, no matter what supplement you choose, keep a few things in mind. First, these are quite expensive, and second, these supplements can only aid in temporary hair fall control. 
Though, there is no review from the person who has tried both of these brands. So, you can decide based on your key preferences and the ingredients you need.
Similar Comparisons: