If we talk about the best brand to have for hair loss treatment, Viviscal and Hair La Vie are the two most popular brands that came to mind. You may hear many people talking about these two brands on social media about how they benefit from these products.
But the problem here is both of these products are equally excellent and picking one from them is quite unfair. Though both the brands are similar, you get to know about some notable differences here. 
Viviscal Vs Hair La Vie: Full Comparison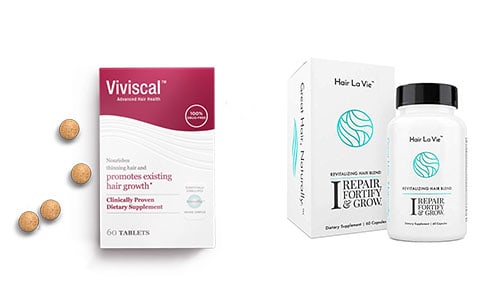 In this article, I'll shed some light on the key differences and details about the products that surely help you decide on a better product.
Viviscal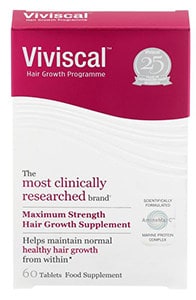 Viviscal is one of the best brands for hair loss treatment as it offers a variety of hair loss products. Out of all the products, its two-step hair rejuvenation system is helpful to promote the growth of hairs from the core. The key ingredient of the Viviscal is AminoMar C which is extracted from fish, malpighia glabra, equisetum, Zinc, Biotin, and Vitamin C.
This brand offers multiple products for hair growth and is specially designed to seal with serious hair loss problems. Moreover, it is also helpful to improve hair rejuvenation as it is 100% free from drugs. I love the product of Viviscal. The hair products are suitable for all types of hair.
However, some people may experience side effects such as nausea and stomach irritation. But these are nullified as you get to adapt to it.
Viviscal Products 
Viviscal offer extensive range of product to promote hair growth and rejuvenate the hair health which is as follows: 
1. Viviscal Professional Strength Dietary Supplements
It offers a professional strength dietary supplement, which is helpful to enhance hair growth. The Viviscal supplement will work in different stages and will see the visible difference after a few weeks. Therefore, regular consumption can help to provide strength to the hair and improve the quality. The major component of the supplement is a vitamin, Biotin, AminoMar C, and acerola cherry. 
2. Viviscal Scalp and Hair Serum
The serum is helpful to make your hair thicker, denser, and support natural hair growth. The Viviscal serum is made from non-greasy formula and is super easy to apply. The best thing is the serum is suitable for damaged, dry, and thin hairs. The product is free from the paraben and also free from artificial color too.
3. Hair Growth Supplement with Collagen Complex 
Clinical experts highly recommend this hair growth supplement with collagen complex. The collagen complex is helpful to treat hair thinning issues, rejuvenate the hairs and reduce hair shedding. Regular use for six months can help to improve hair growth. The supplement contains Biotin, collagen, Zinc, Niacin, Vitamin C, and Iron.
Hair La Vie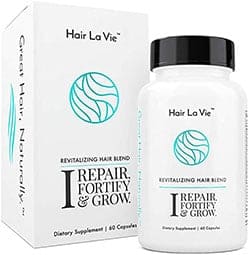 On the same side, the Hair La Vie is not as popular as Viviscal but gained popularity on social media and in the industry. Hair La Vie provides hair loss vitamins and an extensive range of hair care products which are helpful to promote hair growth and repair the damaged hair tissues.
Hair La Vie Products
Hair La Vie offers products for hair treatment, which are as follows:
1. Hair La Vie Vitamins
The hair vitamin from the Hair la Vie is used to deal with the hair's temporary hair loss and thinning. Moreover, the product is also helpful to deal with the loss of hair vitamins and promote hair growth.
2. Hair La Vie Shampoo
If you need the best shampoo that helps control hair fall and deal with hair thinning issues, then Hair la Vie Shampoo is the best choice. The shampoo consists of the essential vitamins which control hair fall.
3. Hair La Vie Conditioner 
The hair loss conditioner by Hair La Vie works well for restoring the damages and bringing volume to the hair. Apart from this, the conditioner is really helpful in dealing with hair thinning issues in women.
For the majority of hair problems, Hair la Vie provides essential hair loss vitamins. However, their products don't look the same, but you need to find out the clear difference.
Viviscal Vs Hair La Vie Products Benefits
Viviscal products are designed for hair growth and have AminoMar marine complex protein. The other ingredients include Zinc and Biotin. While on the same side, Hair La Vie provides essential vitamins that promote hair growth.
Both the products offer similar benefits, making it challenging to decide which brand is best for you.
Healthy hair comes when you have sufficient nutrients in the body. The products offer essential minerals, vitamins, and proteins that can provide strength to the hair.
Nourishes the damaged hair and deal with hair thinning issues
Both the brands are suitable for all types of hairs
Viviscal Vs. Hair La Vie- Which Is Affordable?
Viviscal is a quite expensive brand, and you may need to pay extra bucks for hair loss control. But on the same side, Hair la Vie brings happiness to the faces and is available to you at a reasonable price. However, Viviscal is an industry veteran who provides a scientifically proven formula to promote hair growth. 
Conclusion
There is tough competition between both of these brands. So, it isn't easy to choose the one for you. But now, you have a clear idea about both of these brands. This will help you to pick up the right hair loss treatment brand. But if you want to pick up a reasonable brand that fits your budget, then Hair La Vie is perfect for you.
More similar comparisons: