Are you worried about your hair fall? Is it due to DHT- the most common cause of hair loss is Dihydrotestosterone (DHT)?
In recent times Propidren emerges as a popular DHT blocker supplement- claims its self as the best DHT Blocker. To know the authenticity of claims made by Propidrent read by unbiased Propidren Review.
In this Propidren Review, I will discuss all the details which you need to know before giving it a try.
To know the expert opinion, users feedback my experience with Propidren and other details information stay with this article till the last.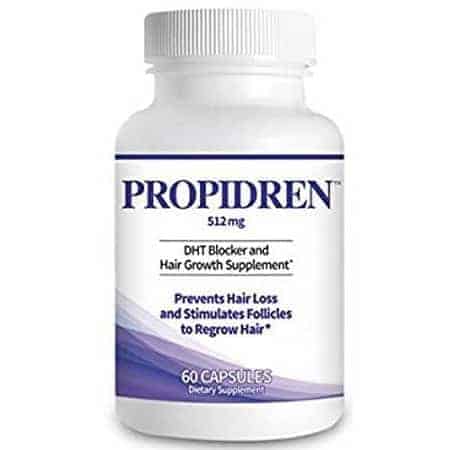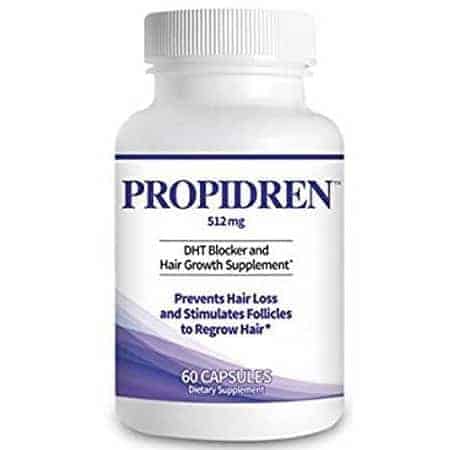 Propidren Review
Propidren is a self-proclaimed DHT Blocker hair supplement manufactured by HairGenics- a US-based company known for its hair treatment and hair growth products.
As the name itself makes it clear that it targets the DHT.
DHT is an androgen- a sex hormone responsible for the development of male characteristics like body hair. Access of it leads to the hair fall.
The ingredients used in this Propidren supplement are mostly natural and effective in addressing deficiencies which leads to hair problems.
As per the claim made by HairGenics manufacturer of Proidren "Proidren is one of the most complete, reasonably priced, highly reviewed and best-selling hair growth supplements available today".
The user reviews of this product on the various platform are mostly positive. This can be considered as the proof for the effectiveness of Proidren DHT blocker supplement in curing hair fall and hair thinning problems.
The product is available for sale on its official website along with other leading online platforms such as Amazon, Walmart, and so on.
Key Ingredients
The Proidren DHT Blocker Supplement use natural ingredients which makes it safe for the use of male and female of all age groups.
In this section of the "Propidren Review," I will discuss the key ingredients and their role in hair treatment.
1. Saw Palmetto
Saw Palmetto is the key ingredient of the Supplement. Saw palmetto is extracted from a tree. Saw Palmetto is used for treating various health problems, But it is mostly known for its properties to control the conversion of testosterone into DHT.
There are studies which also claims that the Saw palmetto is effective in treating androgenic Alopecia.
These together make Saw Palmetto -an important ingredient of Propidren DHT Blocker Supplement.
2. Biotin
Biotin is a water-soluble vitamin well known for its effectivity in hair growth. It improves metabolism and also good for skin and nails.
In most of the good quality hair growth products, you will find Biotin as an ingredient. There are several reports claiming the effectiveness of Biotin. The effectiveness of Biotin in promoting hair growth and scalp health is well proven.
3. Green Tea Extract
Green tea is well known for its health benefits. It is a well-known antioxidant that improves metabolism.
The catechins present is Green tea is very effective in reducing dihydrotestosterone (DTH), responsible for hair loss.
As a result, green tea stops hair fall and is also good for a healthy scalp.
Apart from these three key ingredients, there are several trace ingredients such as Iron, zinc, Beta-Sitosterol, Horsetail Extract, Fo-Tu, Pygeum Bark Powder, etc.
These ingredients together make the Propidren DHT blocker supplement more effective.
Pros
Effective in blocking DHT overproduction.
Nourish the scalp and boost hair regrowth.
Boost the health of nails.
Pure natural product.
Improves body metabolism.
Cons
In some cases it also increase facial hair growth.
Expensive.
My Experience With Propidren DHT blocker Supplement
My experience with the Propidren DHT Blocker Supplement was not up to the mark. I come to know about this product through one of my colleagues and decided to try it.
I have used this Propidren DHT blocker daily for three months after using it for 3 months I didn't find any notable growth in my hair.
I was really very worried this time regarding my hair fall and here comes Folexin Hair Growth Supplement as a savior for me.
Folexin -a Biotin based hair growth supplement which is very effective in promoting hair regrowth and controlling hair fall.
Final Verdict: Is Propidren Worth A try?
In this "Propidren Review," I have covered all the important information about the product which you need to know before buying a Propidren DHT blocker supplement.
And I hope based on the above-mentioned information you can make a smart buying decision.
Even if you ask for my recommendation- Without any second thought, I recommend you to go with Folexin– A hair growth Supplement for the best result.
Folexin is an FDA approved hair Growth supplement which contains Biotin, Fo-ti, Vitamin C, and other organic elements that are very effective in controlling hair fall. I am using Folexin for a long time and its result is outstanding.
So for a guaranteed result, it is better to go with Folexin as compared to Propidren.