Hair loss is a very common problem nowadays. An unhealthy diet and excessive use of hair styling products are the common cause of hair loss in women and men as well.
That's the reason there are many brands that come with lots of hair growth products. But, only a few of them actually work. Tricomin Trio Kit is also a popular hair loss product.
In this guide, I'm going to write a Tricomin Trio Kit review. If you're planning to buy this product, please read this article before placing an order.
Tricomin Trio Kit Review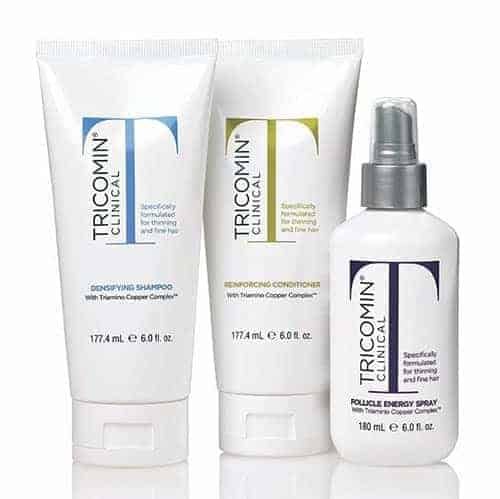 If you're looking for a shampoo, conditioner, and hair spray then Tricomin Trio Kit comes with all three in a package.
The package contains the following products-
Tricomin densifying shampoo
Tricomin reinforcing conditioner
Tricomin energy spray
So, let's understand each product of the Tricomin Trio Kit individually…
1. Tricomin Densifying Shampoo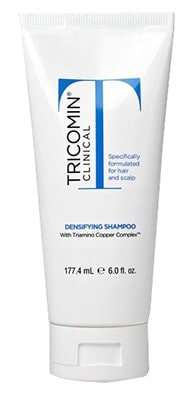 The densifying shampoo by the Tricomin brand is a good option to clean hair scalp and follicles. It deep cleans hair scalps and provides a healthy environment for hair.
Ingredients
Tricomin Densifying Shampoo contains an effective formula to clean your head scalps deeply and provides shiny hair.
It contains the following ingredients-
Aloe Barbadensis Leaf Juice
Ammonium Lauryl Sulfate
Cocamide MEA
Sodium Benzoate
Cocamidopropyl Betaine
Hydrolyzed Rice Protein
Decyl Glucoside
Glycine Soja Germ Extract
Mentha Piperita Oil
Echinacea Angustifolia Extract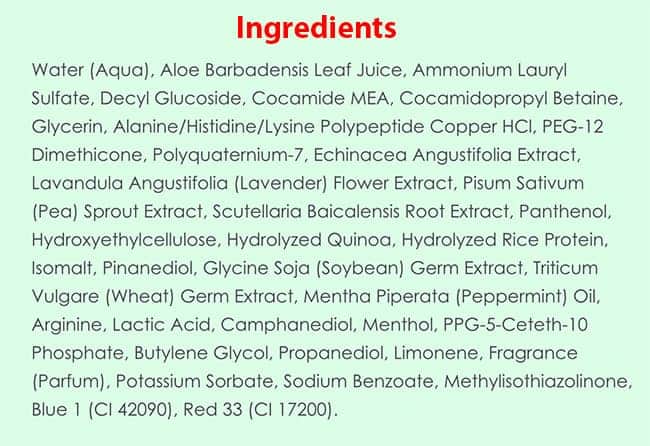 2. Tricomin Reinforcing Conditioner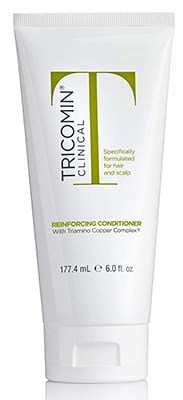 Tricomin reinforcing conditioner is an effective formula that moisturizes hair scalp. It gives extra strength to hair and minimizes strands damage.
Ingredients
The reinforcing conditioner by Tricomin is a blend of following ingredients-
Aloe Barbadensis Leaf Juice
Cetearyl Alcohol
PEG-100 Stearate
Lavandula Angustifolia Extract
Echinacea Purpurea Extract
Behentrimonium Methosulfate
Pisum Sativum Sprout Extract
Hydroxyethylcellulose
Glyceryl Stearate
Lactic Acid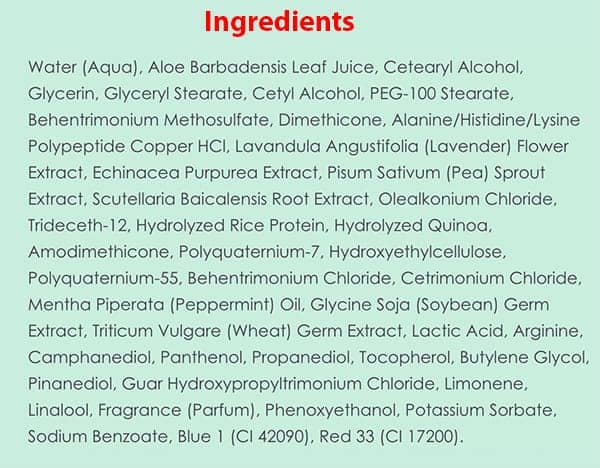 3. Tricomin Energy Spray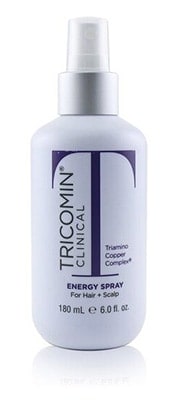 Tricomin Energy Spray is an effective formula that gives energy to your hair follicle. It's a potent leave-in conditioning and vitalizing spray for men and women to address the signs of thin and damaged hair.
Ingredients
Following are the ingredients used in Tricomin energy spray-
SD Alcohol 40-B
Aloe Barbadensis Leaf Juice
Panthenol
Camellia Sinensis Leaf Extract
Sodium Benzoate
Cetrimonium Chloride
Camphanediol
Menthol
Methylisothiazolinone
Scutellaria Baicalensis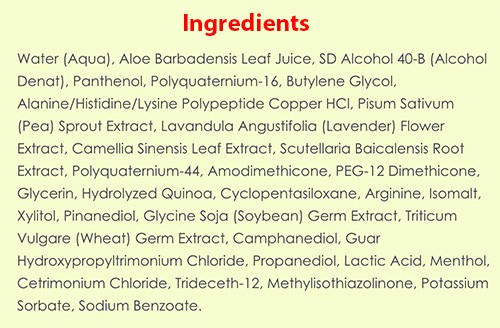 How To Use Tricomin Trio Kit?
It's really easy to use the Tricomin Trio Kit products. Here's how to apply Tricomin hair loss products-
Massage your head with Tricomin Densifying Shampoo for 1-3 minutes. Then wash with water and rinse.
Apply Tricomin Reinforcing Conditioner on your head and massage for 2-3 minutes. After that, wash and rinse your head.
Now spray Tricomin Energy Spray on your head and comb and let it dry. Don't rinse it with water.
For best result, apply it twice daily.
My Experience With Tricomin Trio Kit
I shall be honest with you- I used Tricomin Trio Kit for 5 weeks and I haven't noticed any major difference. Although, my hair looks shiny but it didn't stopped my hair fall.
I would recommend you treat your hair loss naturally. Folexin is the best hair loss supplement for men and women. I'm taking it twice daily for the last 6 months and my hair looks quite thicker and fuller now.
You should go for clinically proven products for hair loss treatments. Also, there is no harm in taking natural medications. But, still, I would say- consult a qualified doctor if you're taking any regular medication.